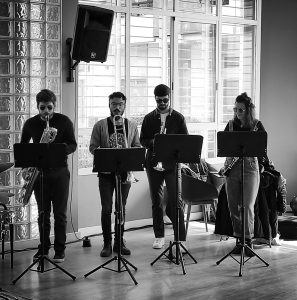 After almost one month without concerts for the public we were so happy opening the door to the audience and friends again to enjoy  the live music all together. It is not possible to compare live concerts with online transmissions. Clasijazz without live music is not Clasijazz. Anyway, that Saturday we organised two events connected with our project CJBb Pro. The first was a kind of jam session with musicians from the bigband but also with singers Ade and Ana, who enriched the session  with their amazing voices.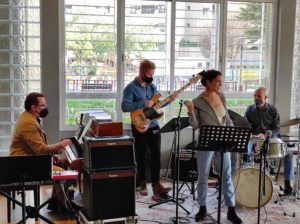 Ambiente was genial!  In the Salón del Parque gathered people we hadn't  seen for a while, other musicians from the bigband and all the volunteers and friends. While eating tapas the audience was tuned into powerful and interesting melodies. Clasijazz Colectivo was created by Chris (bajo eléctrico), Víctor (saxo), Miguel (batería) and also joined our latón músicos de la bigband (Andrea, saxo, Miguel, trombon, David, trompeta, Diego, trombon y Merze, clarineto) accompanied by Pablo on the piano. Such an event! Full of joy, jazz tunes, surprising melodies and lyrics.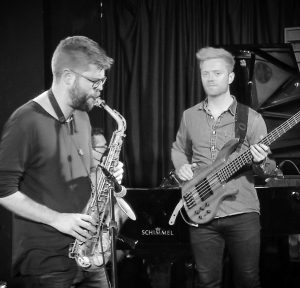 In the afternoon we continued with the first Jam eléctrica,  which was just amazing. Thanks to many musicians who participated in the themes and cheerful audience. Everyone wished that this would last the whole afternoon because it was far from boring.
The core of the Jam session was created by Valmuz guys accompanied by BigBand drumer Andreu. But on the stage we could see many other musicians not only from the BigBand. We intend to organise this Jam electric every weekend.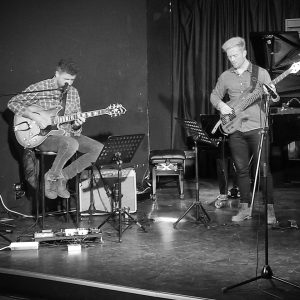 Text: Monika Zuberova.
Photos: Monika Zuberova.
Related posts