During the rehearsal days our nice colleagues from the Clasijazz Cafetería prepare a nice lunch buffet in the "Salón de Parque" so that musicians can spend some time together and also with the team of volunteers. We all get energy for an upcoming rehearsal or concert. It is time to unwind and share stories, ideas and plans. After having eaten, something marvellous happens. Suddenly, one of the musicians starts playing, by his own, for himself. He feels at home. Little by little, other instruments join the melody, until we reach an authentic Jam Session. That's the moment when you realise that playing music it's their way of expression, something that comes as naturally as simply speaking. It is great to watch them enjoying the music, showing their talent and passion. Everyone is invited, this is anything but exclusive. Musicians, guests, they are all welcome to play or just listen to them while enjoying tapas and drinks.
These moments are to be captured as well.
The afternoon of January 15th continued with a series of rehearsals for the second concert. The soloist of the night was Jaume Llombart, incredible guitarist, who we already had the opportunity to listen to on January 7th playing with Enrique Oliver, saxophonist.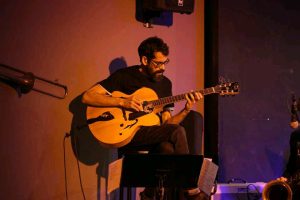 Jaume left us all frozen with his perfect guitar solos and his BigBand directing role. It was again an unforgettable evening. Unfortunately, the new restrictions in Almería were announced, so we had to start earlier, at 18h, with less guests but with more online listeners.
On the program were Far East Suite – Duke Ellington and Wes Montgomery. Great selection of masterpieces.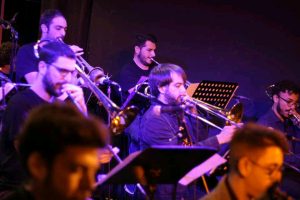 This time new faces joined the BigBand. We had the incorporation of two saxophonists, Álvaro Garrido, a young Clasijazz´student and a promising talent, as well as Andrea Lurianello, who arrived from Sicily in order to spend two months as a musician and volunteer at Clasijazz.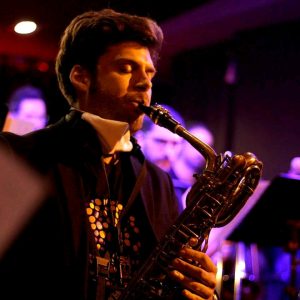 Musicians:
Trumpets
– Pep Garau
– Bruno Calvo
– José Carlos Hernández
– David Galera
Trombons
– Tomeu Garcias
– Paco Soler
– Rita Payés
– José Diego Sarabia
Saxophones
– Mike Fletcher
– Álvaro Garrido
– Enrique Oliver
– Dani Torres
– Andrea Iurianello
Piano: Daahoud Salim
Guitar: Jaume Llombart
Bass: Bori Albero
Drums: Andreu Pitarch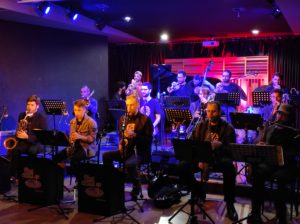 Text: Monika Zuberova
Fotos and Video:  Monika Zuberova and @mescola.dg
Related posts