Jean-Michel Plic (piano) François Moutin (contrabajo) Ari Hoenig (batería) Clasijazz, sábado, 9 de mayo de 2015. 22:30 H.
Ciclo Conciertos Internacionales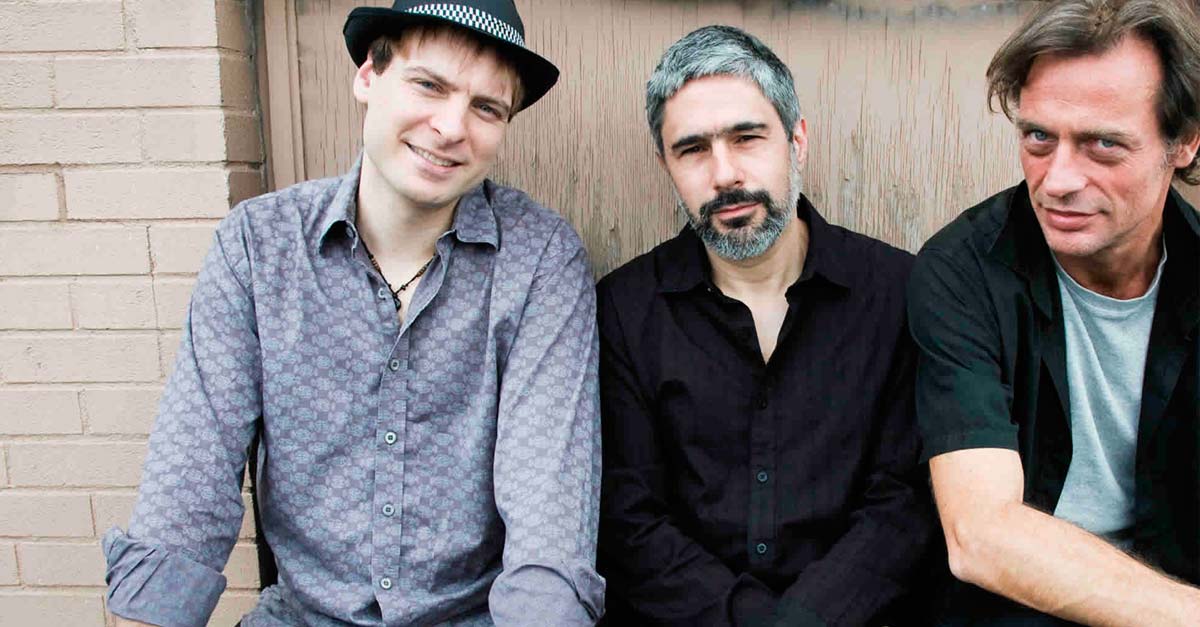 Grandioso concierto a cargo de una de las más importantes formaciones del jazz actual, un trío donde cada uno de sus miembros tiene voz propia, inmersos en un triálogo al modo de ménage a trois, tres voces en un discurso nada acomodaticio y comprometido a fondo con la mayor libertad expresiva. Por momentos parecerá que juegan cuando bopeen, interpreten calipsos, baladas o nanas. Una forma de entender la música que coincide con la máxima afín a sus miembros —Jean-Michel Pilc, François Moutin y Ari Hoenig—: "la rutina mata al arte".
El trío festeja este año el XX Aniversario de su creación, allá por 1995 cuando sus entonces jóvenes miembros se encontraron en New York en busca de futuro.
El concierto se desarrollará en un único pase de 90 minutos.
[Texto del programa del concierto celebrado en Clasijazz el 9 de mayo de 2015]
Jean-Michel Pilc (piano)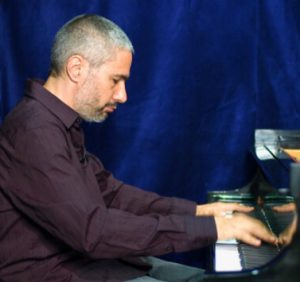 Jean-Michel Pilc (París, Francia. 1960) Pianista de jazz francés. Descubrió el jazz a los ocho años de edad escuchando a Bix Beiderbecke, pero sus oídos también se dejaban engatusar por Bach, lamúsica africana, Prokofiev, Charlie Parker, etc. Autodidacta y asombrosamente dotado, deja su Francia natal en 1995 para trasladarse a Nueva York, donde reside en la actualidad.
Su habilidad técnica ha sido comparada a Michel Petrucciani, McCoy Tyner y Cecil Taylor, en un cúmulo sabiamente administrado por su ya rica experiencia. De particular interés es la técnica de su mano izquierda, que ofrece un enfoque casi ambidiestro al teclado. En su acervo musical yacen vestigios de la mejor tradición del piano jazz como Martial Solal, Ahmad Jamal, Herbie Nichols, Bill Evans, Don Pullen… se incorporan al lenguaje de un trío nada acomodaticio y comprometido a fondo con la mayor libertad interpretativa. De hecho parecerá que están jugando cuando les escuches bopear o tocar himnos, calipsos y hermosas canciones de cuna. Su forma de entender la música coincide por completo con la máxima de su líder: "la rutina mata al arte", así como con las expectativas creadas dado el nivel de estos creadores.
A lo largo de su fecunda carrera ha tocado con Roy Haynes, Michael Brecker, Dave Liebman, Jean Toussaint, Rick Margitza, Martial Solal, Michel Portal, Daniel Humair, Marcus Miller, Kenny Garrett, Lenny White, Chris Potter, John Abercrombie, Mingus Dinasty Big Band, Lew Soloff y Richard Bona. Además ha trabajado con Harry Belafonte como director musical y pianista. Además de sus propios proyectos, es miembro del grupo liderado por el baterista Ari Hoenig.
Mientras vivió en Europa recorrió cuarenta países y participó en una larga docena de grabaciones, así como una banda sonora.
En 1995 se trasladó a Nueva York, donde formó el ya célebre trío de referencia junto al contrabajista François Moutin y el baterista Ari Hoening, no tardando en hacerse habituales en los principales clubes de NYC como Blue Note, Birdland, Knitting Factory o Sweet Basil.
Al margen de sus trabajos y grabaciones como solista o con otras formaciones, éste trío que nos visita  —con Moutin y Hoenig— es la verdadera niña de sus ojos, que en este año celebra su vigésimo aniversario: veinte años abordando standards con imaginación desbordante y exquisita versatilidad, o bien poniendo sobre la mesa composiciones a la caída, sin papeles ni pactos previos y en las que brilla una compenetración y un arrojo sólo reservado a los grandes, como debe ser en cualquier trío-piano moderno, un tríalogo o una conversación abierta y enriquecedora.
Tras firmar un contrato de una semana en el legendario club Sweet Basil editaron en el año 2000 el doble álbum Jean-Michel Pilc Trio, Togheter: Live at Sweet Basil, NYC, Vol. 1 & 2 (A-Records), elogiado por la crítica estadounidense y europea. Esto propicio la firma de un contrato para varios discos con el sello Dreyfus Jazz, cuyo primer álbum, Welcome Home grabado con el mismo trío vio la luz a principios de 2002. La gira de lanzamiento del álbum duró 5 semanas, seguidas de una gira de otoño de otras 4 semanas por siete países europeos, entre ellos el Rising Stars Tour en Alemania, Austria y Suiza. Han actuado recientemente en numerosos festivales y escenarios de todo el mundo.
Su segundo álbum para Dreyfus, Puntos Cardinal Points, apareció en 2003, y la revista especializada Jazz Times lo eligió como uno de los 50 mejores de 2003, y recibió 4 estrellas en el "Hot Box" de Down Beat. En el álbum se incluye la versión completa de su composición "Sonata Trio" financiada por la Doris Duke Charitable Foundation.
En 2004 editó su primer álbum en solitario, Follow Me (Dreyfus). Y ese año además realizó una extensa gira por todo el mundo, en solitario y con su New Trio, con Thomas Bramerie (contrabajo) y Marcos Mondesir (batería). La primera grabación del nuevo trío fue un directo en el Iridium Jazz Club de Nueva York en octubre de 2004, y el álbum se publicó en 2005 con el nombre de New Dreams (Dreyfus, 2005) y en 2009 editó True Story (Dreyfus, 2009), en este caso con el gran baterista Billy Hart.
Sus siguientes álbumes aparecieron en 2011 para la discográfica Motema Music, el celebrado por la crítica Essential, grabación en directo de piano, y Threedom con su legendario y antiguo trío junto a François Moutin y Ari Hoenig, renombrado bajo el apelativo colectivo de Pilc Moutin Hoenig, que es el que tendremos ocasión de oír esta noche.
En 2009 apareció en Estado Unidos un documental sobre él realizado por John McCormick sobre Jean-Michel titulado Jean-Michel Pilc:  A Portrait. Y este mismo año obtuvo su segunda beca para  New Works: Creation and Presentation Grant from Chamber Music America, proyecto consistente en la composición e interpretación de Modern Lightsk  en la que refleja su inspiración en la obra del cineasta y actor Charles Chaplin. El proyecto se estrenó en el Caramoor Jazz Festival en agosto de 2009.
Desde 2006 es miembro de la facultad NYU Steinhardt, donde imparte clases privadas (piano y otros instrumentos), de combo y talleres de improvisación. En 2010 fue co-director de la NYU Summer Jazz Improv Workshop. Además ejerce la docencia en la New School de Nueva York, así como en privado.
Recientemente ha publicado el libro It's About Music: The Art and Heart of Improvisation (Glen Lyon Books) y el video educativo para instrumentos True Jazz Improvisation (JazzHeaven), y prepara otro video sobre la interpretación y práctica del piano.
En 2013 recibió una beca de la John Simon Guggenheim Memorial Foundation, categoría 'composición' para su proyecto de octeto Big One con música original.
En 2015 editó What Is This Thing Called?, su tercer álbum en solitario y su primer lanzamieto con el sello Sunnyside Records.
En 2000 recibió el premio Django Reinhardt otorgado por la Academia Francesa de Jazz, uno de los principales galardones del ámbito jazzístico internacional
Como sideman ha tocado y grabado recientemente con el el baterista Ari Hoenig (The Painter, Smalls Records), con los vocalistas Elisabeth Kontomanou (The Midnight Sun, Nocturne), JD Walter, con el bajista y cantante Richard Bona (Scenes from my Life, Sony/Columbia ), con el saxo soprano Sam Newsome y con el saxo alto Rosario Giuliani (More Than Ever, Dreyfus).
Trabaja en diversos proyectos sea como solista, a dúo, trío o en variadas formaciones. Para más información véase su web.
Reseñas críticas
"Sus reinterpretaciones de gran complejidad armónica muestran a un genio". Eric Brace, The Washington Post.
"Puede que no haya un intérprete de piano jazz más versátil e impredecible que Jean-Michel Pilc". Thomas Conrad, Jazz Times.
"Un pianista de deslumbrante inventiva". Nate Chinen, The New York Times.
"Jean-Michel Pilc pertence por derecho a la primera liga. John Fordman, Guardian Unlimited (GB).
"Uno de los tríos de piano jazz más asombrosos de la última década". Don Williamson, Jazz Revision.
"Mr. Pilc parece haber caído del cielo totalmente formado, con la técnica y sus ideas en su lugar. Es un intérprete físico y de densidad armónica, con una mente al estilo del cubo de Rubik en las sustituciones de acordes". Ben Ratliff, New York Times.
"… representaciones cubistas de la melodía en la que el original se forma de nuevo en una perspectiva visual completamente diferente; la opacidad brillante del impresionismo en algunas de las exuberantes armonías de Pilc". Don Heckman, Los Angeles Times.
"Debe ser estudiado en todas las escuelas de música de la galaxia". Harvey Siders, Jazz Times.
Discografía
Como líder o colíder:
Jean-Michel Pilc: What Is This Thing Called? (2014, Sunnyside Records).
Ceccarelli Pilc Bramerie: Twenty (2014, Bonsaï Music)
Vinding Pilc Mazur: Composing (2014, Gateway Music)
Pilc Moutin Hoenig: Threedom ((2011, Motéma)
Jean-Michel Pilc: Essential (2011, Motéma)
Jean-Michel Pilc: True Story (2009, Dreyfus Jazz)
Jean-Michel Pilc: New Dreams (2007, Dreyfus Jazz)
Jean-Michel Pilc: Live at Iridium (2005, Dreyfus Jazz)
Jean-Michel Pilc: Follow Me (2004, Dreyfus Jazz)
Jean-Michel Pilc: Cardinal Points (2003, Dreyfus Jazz)
Jean-Michel Pilc Trio: Welcome Home (2002, Dreyfus Jazz)
Jean-Michel Pilc / Hein Van De Geyn Duo: The Long Journey (2001, A-Records)
Jean-Michel Pilc Trio: Together Live at Sweet Basil, Volume 1 & 2 (2000, A-Records)
Jean-Michel Pilc: Big One for 13 Piece Band (1993, EMP/Harmonia Mundi)
Jean-Michel Pilc Trio: Funambule (1989, Blue Line)
Como sideman:
Petros Klampanis: Contextual (2014)
Maria Toro: A Contraluz (2014)
Rhys Tivey: No Voice No More (2014, CD Baby)
Rafael Rosa: Portrait (2014, CD Baby)
Mokhtar Samba: African Project (2014)
Lars Graugaard: Fact Machine (2013, Clang)
Benjamin Koppel: Illuminations (2013, Tiger Music)
Fabio Gouvea: So Close So Far (2013)
Richard Bona: Ten Shades of Blues (2010, Decca)
Mads Vinding: Open Minds (2010, Storyville)
Ari Hoenig: Inversations (2006, Dreyfus Jazz)
Rosario Giuliani: More than ever (2004, Dreyfus Jazz)
Elisabeth Kontomanou: Midnight Sun (2004, Nocturne Records)
Rick Margitza: Rue des Voleurs (2004, Nocturne Records)
Ari Hoenig: The Painter (2004, Smalls Records)
Sam Newsome and Global Unity (2001, Palmetto)
Elisabeth Kontomanou: Hands and Incantation (Duo, 2000, Steeplechase)
Richard Bona: Scenes from My Life (1999, Sony/Columbia)
Elisabeth Kontomanou: Embrace (1999, Steeplechase)
D. Walter: Sirens in the C-House (1997, Dreambox)
Jean Toussaint: Life I Want (1995, World Circuit)
Aldo Romano: Prosodie (1995, Polygram)
Andre Ceccarelli: From The Heart (1995, Polygram)
Elisabeth Kontomanou (1993, EMP/Harmonia Mundi)
Martial Solal/Eric Le Lann: Edith Piaf and Charles Trenet (with strings, 1989, Musidisc).
François Moutin (contrabajo)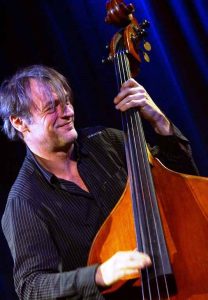 François Moutin (París, Francia,1961) Contrabajista francés, residente en la actualidad en Nueva York. Su temprano interés por la música fue alentado por sus padres. Autodidacta, comenzó a estudiar la guitarra de oido a los 5 años, y a los 8 aprendió a tocar el piano. A esa edad ya le interesaba el jazz estilo new orleans y a los 12 el jazz moderno. Se apasionó por el contrabajo a los 17 años, a la par que por el estudio de las matemáticas. Se licenció en ingenieria en Telecóm Paris en 1985, terminando el doctorado en física a los 24 años. Si embargo, decidió vivir de su pasión y se hizo músico profesional.
Tres años después, como miembro del trío del legendario pianista Martial Solal, fue reconocido como uno de los mejores jóvenes contrabajistas de Europa. A los 29 años colideró con su hermano gemelo, el reputado baterista Louis un quinteto bajo el nombre de Moutin Reunion Quartet, banda con la que realizaron extensas giras por Europa y Estado Unidos. La banda ha grabado los álbumes Power Tree, Red Moon y Something Like Now (2005).
Viviendo en Paris trabajó con los músicos de talla internacional como Martial Solal, Michel Portal, Antoine Hervé, Daniel Humair, André Ceccarelli, Eric Lelann, Jean-Michel Pilc, Christian Escoudé. Además de con Peter Erskine, Randy Brecker, Niels Lan Doky, Mino Cinelu, Dave Liebman, John Abercrombie, Toots Thielemans, Didier Lockwood, Larry Schneider, Aldo Romano, James Moody, Terry Lyne Carrington, Richard Galliano, Bernard Lubat, Aaron Scott, George Brown, Sunny Murray, Michel Legrand, Archie Shepp, Claude Nougaro, Trilok Gurtu, Bob Berg, Birelli Lagrené, Wladimir Kosma, Marius Constant, Markus Stockhausen, o el Ensemble Inter Contemporain. Ha actuado en los más importantes Festivales de Jazz europeos y recorrido con sus giras más de 30 países a lo largo y ancho del mundo.
En 1995 recibió el prestigioso premio Django-Reinhardt en 2005 junto a su hermano  Louis.
En noviembre de 1997 se trasladó a Nueva York trabajando de forma estable en sesiones de estudio y en directo con los principales jazzmen de la escena jazzística de la ciudad. Una lista parcial de sus nombres equivaldría a las "páginas amarillas del jazz": Franck Wess, Jimmy Heath, Monty Alexander, Benny Powell, Don Alias, Mike Stern, Lew Soloff, Steve Kuhn, Joe Locke, Billy Hart, Jeff 'Tain' Watts, Victor Lewis , Billy Drummond, Richie Beirach, Dave Liebman, Oliver Lake, Harry Belafonte, Odean Papa, James Hurt, Ari Hoenig, Jean-Michel Pilc, Rick Margitza, Franck Kimbrough, Joel Frahm, Greg Tardy, Gene Jackson, Dave Binney, Rudresh Mahanthappa , Vijay Iyer, Adam Rogers, David Gilmore, Ben Monder, John Hart, Billy Drews, Jamie Haddad, Steve Hass Bob James, entre otros.
Es habitual en los escenarios de los principales clubes como Sweet Rhythm, Jazz Standard, Birdland, Village Vanguard, Blue Note, Knitting Factory, Zinc Bar, Jazz Gallery, Tonic, Smoke, Lincoln Center, Town Hall, Nueva York Symphony Space, Museo de Arte Moderno. Así como de algunos de los más importantes festivales de jazz de todo el país como Newport JVC Jazz Festival, Bell Atlantic Jazz Festival (New York), Freihoffer Jazz Festival (Saratoga Spring), Detroit Jazz Festival, Monterey Jazz Festival, San Francisco Jazz Series, o Kansas City Jazz Festival.
Además ha tocado y grabado con la figura de la música árabe Simon Shaheen.
Discografía
Como líder/colider
François & Louis Moutin: Soul Dancers (Plus Loin, 2010).
François & Louis Moutin Reunion Quartet: Sharp Turns (Nocturne/Lightyear, 2007).
François & Louis Moutin Reunion Quartet : Something Like Now (Lightyear/ Nocturne, 2005)
Moutin Reunion Quartet: Red Moon (Nocturne/ Sunnyside, 2003).
François & Louis Moutin Reunion Quartet: Power Tree – (Nocturner/Dreyfus Jazz, 2002)
André Ceccarelli, Nguyên Lê, Francois Moutin: Init (Polygram Music, 1993)
François et Louis Moutin Quintet: Parcours – (Blue Line, 1991).
Como sideman
Lew Soloff: Live at the Knickerbocker (2007)
Manu Codjia: Songlines (BeeJazz, 2007)
Rudresh Mahanthappa: Codebook (Pi Records, 2006).
Antoine Hervé: Road movie (Nocturne2006).
Michel Portal: Birdwatchr (Universal, 2006).
Tigran Hamasyan: World Passion (2005).
Frank Wess: Body and Soul (M&I Records, 2005).
Lew Soloff: Air (Keystone Corner, 2004).
Rudresh Mahanthappa: Mother Tongue (Pi Records, 2004).
Jean-Michel Pilc: Cardinal Points (Dreyfus Jazz, 2003)
Jean-Michel Pilc : Welcome Home (Dreyfus Jazz, 2002).
Rudresh Mahanthappa: Black Water (Red Giants Records, 2002).
Antoine Hervé: Summertime (Nocturne, 2002).
Martial Solal: NY- 1 / Live at the Village Vanguard (Blue Note Records, 2002).
Antoine Hervé: Invention Is You (Enja, 2001).
Franco Ambrosetti: European Legacy (Enja, 2001).
Jean-Michel Pilc: Live at Sweet Basil Vol 1 y 2 (Challenge Record, 1999).
James Hurt: Dark Grooves (Blue Note, 1999).
Richie Beirach, Steve Davis, François Moutin: Exploration ( Double Time, 1996).
Antoine Hervé: Fluide (Label Bleu, 1994).
Michel Portal: Anyway (Label Bleu, 1993).
Trio Machado: Séquence Thmirique (Label Bleu, 1992).
Manuel Rocheman: White Key (Nocturne, 1991).
Ari Hoenig (batería)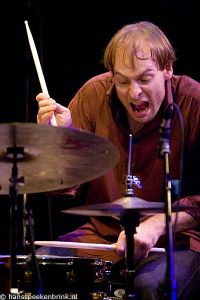 Ari Hoenig (Philadelphia, Pennsylvania, 1973) Baterista de jazz estadounidense. Su padre era director de orquesta y cantante y su madre violinista y pianista, con lo que a los  años comenzó a estudiar violín y piano. A los 12 se pasó a la batería y a los 14 fue perfeccionando su toque junto a otros jóvenes aficionados que acudían al clubes de Filadelfia como el Ortlieb Jazz Haus de Filadelfia como Sam Dockery, Robert 'Bootsie' Barnes, Mickey Roker y Bobby Durham.
A principios de 1990 estudió en la University of North Texas con el baterista Ed Soph y tocó en la banda de jazz One O'clock.
En 1995 se trasladó al William Patterson College de New Jersey donde trabajó con el legendario organista Shirley Scott. Poco después se trasladó a Brooklyn empezando a trabajar con importantes músicos de la escena neoyorquina, formando parte de los tríos de Jean-Michel Pilc y de Kenny Werner, así como de las formaciones Chris Potter Underground, Kurt Rosenwinkel Group, Joshua Redman Elastic Band, The Jazz Mandolin Project y bandas dirigidas por Wayne Krantz, Mike Stern, Richard Bona, Pat Martino, Dave Leibman y Bojan Z.
Además trabajó con músicos como Joe Lovano, Gerry Mulligan, Pat Metheny, Dave Holland, Wynton Marsalis, Pat Martino, Joshua Redman, Wayne Krantz, Richard Bona, Chris Potter, Kurt Rosenwinkel, Mike Stern. Y ha compartido escenario con artistas como Herbie Hancock, Ivan Linz, Wynton Marsalis, Linda Theilmans, Dave Holland, Joe Lovano, Pat Metheny o Gerry Mulligan.
Editó dos álbumes en solitario Time Travels (2000) y The Life of a Day (2002), importantes proyectos en los que explora las posibilidades melódicas de la bateria. A finales de 2002 fundó su propio cuarteto con Jacques Schwarz-Bart  (st), Jean-Michel Pilc (b) y John Weidenmüller (b) (más tarde Matt Penman), con el que tocaba los lunes en el club Fat Cat, editando dos discos para el sello Smalls: The Painer (2004) y Kinetic Hues (2005, DVD).
En 2006 firmó un contrato con Dreyfus Records publicando el primer álbum, Inversations en trío con Jean Michel Pilc y Johannes Weidenmueller. El segundo Bert's Playground (2008) lo graba con Punk Bop Band junto a Chris Potter, Jonathan Kreisberg, Matt Penman, Will Vinson, Gilad Hekselman y Orlando Fleming.
Su siguiente proyecto discográfico fue con Live Smalls, discográfica creada en 2009 para documentar la música interpretada en el club neoyorquino Smalls Jazz Club, donde Hoening reside desde 2003. Grabó con su Punk Bop Band el álbum Punk Bop Band Live at Smalls. El grupo lo componen Will Vinson (sa) Jonathan Kreisberg (g) y su compañero del Jazz Project Madolin, el contrabajista Danton Boller, y con Tigran Hamasyan como invitado especial en 4 pistas.
En cuarteto junto a Tigran Hamasyan, Gilad Hekselman, Orlando le Fleming y Chris Tordini publico en 2011 el álbum Lines of Oppression para el sello Naive, que representa su cénit como líder de banda, compositor y arreglista.
Actualmente dirige tres formaciones que interpretan su música original. Además del cuarteto Ari Hoenig y de Punk Bop Band, dirige el Ari Hoenig trío, con Jonathan Kreisberg o Gilad Hekselman como guitarristas y Matt Penman u Orlando Fleming en el contrabajo. Además colidera numerosos grupos como Pilc/Moutin/Hoenig ("the three headed monster", "las tres cabezas monstruo"), Oscillations Quartet y varios dúos con Chris Potter, Edmar Casteneda o Dan Weiss.
En su faceta educativa ejerce la docencia privada, así como en New York University y en la New School for Social Research de Nueva York. Imparte clínics y conferencias en universidades y escuelas de música de todo el mundo y escribe una columna educativa en la revista Modern Drummer. En colaboración con el bajista Johannes Weidenmueller, publicó Intro to Polyrhythms Vol 1, y Metric Modulations, Expanding and Contracting Time within Form Vol 2. (Mel Bay 2009, 2012).
En 2011 publicó otros dos proyectos educativos dedicados específicamente a la interpretación de la batería: Systems Book 1, Drumming Technique and Melodic Jazz Independence (Alfred Publishing) y el DVD Melodic Drumming (2011) disponible en jazzheaven.com. The Ari Hoenig Songbook, libro con todas las partituras de sus composiciones (y no sólo las fáciles) también esta disponible para descargar en lulu.com.
Discografía
Melodic Drumming DVD (Jazzheaven.com 2012)
Ari Hoenig Johannes Weidenmueller: Metric Modulations Expanding and Contracting Time Within Form Vol 2 (Book/DVD) Mel Bay 2012
Ari Hoenig, Lines of Oppression(Naive/AHHA 2011)
Ari Hoenig.: Systems Book 1 Drumming Technique and Melodic Jazz Independence (Alfred Publishing 2011) Digital Download Hard Copy
Pilc Moutin Hoenig: Threedom Motema 2011
Diego Barber: The Choice (Sunnyside 2011)
Ari Hoenig : Punk Bop Live at Smalls (Smalls Live 2010)
Euan Burton/Tom Gibbs Group: Forgotten Things (Weejazz Records 2010)
Peter Schwebs: Stories from Sugar Hill (Laika Records 2010)
Yul Ballestros: Minor Things (Irina Records 2010)
Ari Hoenig /Johannes Weidenmueller: Intro to Polyrhythms (Book/DVD) (Mel Bay, 2009)
The Ari Hoenig Songbook (AH HA Music 2009)
Jean Michel Pilc:A Portrait (DVD) (Living Jazz Archive 2009)
Misha Piatigorsky: 17 Rooms (Misha Music 2009)
Kenny Werner: With a Song in My Heart (Venus Records  2009)
Young Joo Song: Love Never Fails (Stomp Music 2009)
Ari Hoenig: Bert's Playground (Dreyfus Records 2008)
Akiko Grace: Graceful Vision (Savoy/Columbia 2008)
Vincent Bourgeyx: Again (Fresh Sound 2008)
Gael Horellou: Pour la Terre (DTC records 2008)
Joris Roelofs: Introducing Joris Roelofs (Material Records 2008)
Will Vinson: Promises ((nineteen eight 2008)
Rory Stuart: So Rise Up (Smart Cat Music 2008)
Russ Nolan: With You in Mind (Rhinoceros 2008)
John Nam: Into a New Groove (Stomp Jazz 2008)
Sam Yahel, Seamus Blake, Mike Moreno: Jazz Side of the Moon (Chesky Records 2008)
Jean Michel Pilc: New Dreams (Dreyfus 2007)
Ari Hoenig: Inversations (Dreyfus Records 2007)
Bill Carrothers: Keep Your Sunny Side Up (Pirouet 2007)
John Nam: No Regrets (Stomp Music 2007)
Kenichi Doami: Chronicle (2007)
Misha Piatigorsky: Uncommon Circumstance (2006)
Edmar Castaneda: Cuarto de Colores (2006)
Antoine Herve: Road Movie (Nocturne, 2006)
Nick Russo: Ro (2006)
Simona Premazzi: Looking for an Exit (2006)
Tigran Hamasyan: World Passion (Nocturne, 2006)
Gilad Hekselman: Splitlife (Smalls Records 2006)
Sebastian Noel: Across the River (Fresh Sound 2006)
Bojan Z: Xenephenia (Label Bleu 2006)
Ari Hoenig: Kinetic Hues (Smalls Records 2005 DVD)
Richard Bona: Tiki (Universal 2005)
Patricia Julien Project: Glee (2005)
Woody Witt: Square Peg Round Hole (Apria Records 2005)
Paul Bollenback. Brightness of Being (Elephant Dreams 2005)
Michael Campagna: Passionate Nature (2005)
Heather Bennett: Reflections in Red (Apria Records 2005)
Ari Hoenig: The Painter (Smalls Records 2004)
JD Walter: Two Bass, a Face and a Little Skin (Dreambox Media 2004)
Yosuke Onuma: The Three Primary Colors (Sony Records 2004)
Sila Cevikce: A New Abode (Steeplechase 2004)
Kenny Werner: Peace (Half Note 2004)
Jean Michel Pilc: Cardinal Points (Dreyfus 2003)
Jazz Mandolin Project: Jungle Tango (Lenapee Records 2003)
Chris Kase: Nine Easy Pieces (Satchmo Jazz 2003)
Jam Session Vol 6 (Steeplechase 2003)
Ari Hoenig: The Life of a Day (AH HA Records 2002)
Kenny Werner: Beat Degeneration (Sunnyside 2002)
Kenny Werner: Free Play (Jamey Aebersold Jazz 2002)
Jean Michel Pilc: Welcome Home (Dryfus Records 2002)
Jonathan Kreisburg: Trioing (New for Now 2002)
Julien Lourau: The Rise (Label Bleu 2002)
Jeffery Burr: Bright Blue (2002)
Timo Elliston: The Cobbler's Son (2002)
Jazz Mandolin Project: After Dinner Jams (Lenapee 2001)
JD Walter/Dave Liebman: Clear Day (Double Time 2001)
Richard Bona: Reverance (Colombia, Sony Music 2001)
Mike Stern: Video "Live at the 55 Bar" (Ritor Music 2001)
Kenny Werner Trio: Form and Fantasy (Night Bird, Sunnyside 2001)
Diedre Rodman: Sun is Us (Sunnyside 2001)
Harumi Igarashi: A Song for You (BMG 2001)
Ari Hoenig: Time Travels (1K Recordings 2000)
Jean-Michel Pilc Trio: Live at Sweet Basil vol.1 & 2 (Challenge 2000)
Kenny Werner: Beauty Secrets (BMG 2000)
The Jazz Mandolin Project: Xenoblast (Blue Note 2000)
Josh Roseman Unit: Cherry (ENJA 2000)
Tony Purrone: Temperament (Steeplechase 2000)
Matt Shulman: While We Sleep (2000)
Ari Ambrose: Chainsaw (Steeplechase 2000)
Thor Madsen: Metal Dog (Red Giant 2000)
Brian Charette: Live at Deanna's (Rivington Records 1999)
Richard Bona: Scenes From My Life (Columbia /Sony 1999)
James Hurt: Dark Grooves and Mystical Rhythms (Blue Note 1999)
The Jazzheads: Avant Wot Not (1K Recordings 1999)
Jacques Schwarz-Bart: Immersion (Fresh Sound 1999)
Lou Lanza: Shadows & Echoes (Challenge 1998)
Norman Simmons: The Heat and the Sweet (Milljac 1997)
Lou Lanza: Corner Pocket (J-Bird 1997)
Nilufer Ruacan Verdi: Mana (ADA muzik 1997)
UNT One O'Clock Lab Band: Lab 95 (North Texas Jazz 1996)
© José Santiago Lardón 'Santi' (mayo, 2015)
Related posts